Welcome
Alamanda Polymers specializes in the manufacturing of well-defined polyamino acids for research laboratories doing work in gene therapy, encapsulation, drug delivery, cell adhesion, and surface coating. Our company provides a wide range of metal-free biopolymers including homopolyamino acids and PEGylated polyamino acids. Due to our characteristic polymerization process, we are the only supplier able to offer effectually exact polyamino acid chain lengths thereby giving researchers new options for use and consistently reproducible results.
Superior by Design: Alamanda's Advantage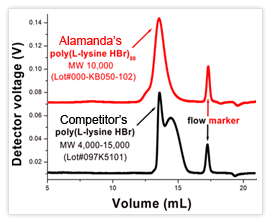 Our scientists, having more than 15 years experience in the synthesis of polyamino acids, have developed a polymerization process that enables us to have complete control over the molecular weight of our polyamino acids without the use of metal catalysts. Furthermore, not only does the process enable us to achieve effectually exact chain lengths but also highly monomodal products (polydispersity index: 1.01-1.2) and batch-to-batch consistency.
For more information on how we can give you new options for consistently reproducible results, please contact us.